"El Bileği sabitleme sistemi"
Distal radius ve dirsek kırıkları için komple iç osteosentez sistemi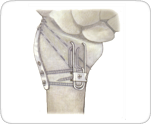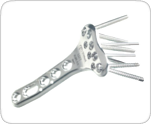 Complete System, costitutes of: anatomical radial and ulnar pin plates, special preshaped clamps, special screws, threaded and unthreaded pegs, locking K-Wires, anatomical volar bearing plates with gyroscopic multiaxial holes in the distal part of the plate and with all screws locking, made of S.S.
Avantajlar
Sadece bir levha değil, tam bir çözüm!!!

Düzenli azalma ve elin hemen harekete kavuşması
Düşük profilli sistem
Hasta günlük hayatını 30 gün erken dönebilir
Fizyoterapi gereksinimi ortadan kalkıyor
Dünya çapındaki tek "tam çözüm"
Olecranon Sled
Trimed Olecranon sled system
Avantajlar
Düşük profil malzemeler
Yüksek kaliteli ürünler
Kolay takılma işlemi
"Ulnar Osteotomy(shortening) System"
Osteotomy System, consisted of : a special, anatomical compression plate, which gets prestabilised before the cut of the bone. The plate has 6 holes and one hole with diagonal hole for the compression screwin order to compress the two cutted parts of the bone. In the set, there are S.S. Screws 3,2 mm , with lengths 10 - 26 mm, drills and one use disposable Wires. Guides for controlled bone cuts of 2, 3, 4 and 5mm diagonal slice
Avantajlar
Anatomik prestabilize levhalar
Rehberler eşliğinde kontrollü kesim
Kemik parçalarının dairesel hareketlerine izin vermeyen özel bir işlem
Diyagonal sıkıştırma vidası sayesinde iki kesik arasında güçlü bir sıkıştırma
"OMNITECH HAND"
Açıklama
Dynamic compression cannulated screws, with conical head, with two different pitches, self - tapping, with insertion guides, in diameters 1,7 - 2,3 - 3,0 και 3,5 mm, from Ti, for mini fractures, phalanx fractures, finger arthrodesis
"El ve Ayak Parçaları"
küçük kırıklar ve arthrodesis
SET
a) Xpode system for 4,3 or 2corner arthrodesis of the carpal small bones and of the small bones of the foot. This system is consisted of xpode4 cups in different sizes and shapes. These plates are round, made of the radiolucent material ΡΕΕΚ OPTIMA. This system comes with locking cannulated Ti screws
b) Internal Osteosynthesis system for mini fractures and phalanx arthrodesis, made of a combination of Ti and radiolucent material PEEK OPTIMA, with straight plates or Τ plates and with locking-multiaxial and cannulated screws made of Ti
Avantajlar
Düşük profilli levhalar (1,2mm)




Çok eksenli kilitleme delikleri
Kesilebilir ya da şekillendirilebilir

Xpode plate from radiolucent material
PEEK OPTIMA

Çok eksenli
Kilitlemeli
Delikli Ti vidalar
Radiolucent